There may be scenarios where you want to track Marketing Costs from a 3rd party system that Wicked Reports does not integrate with.
To learn how you would do that, please watch the video below:
You can add Other Marketing Costs by entering the costs individually or uploading a CSV file via our Other Marketing Costs interface under the Tracking Tools Menu.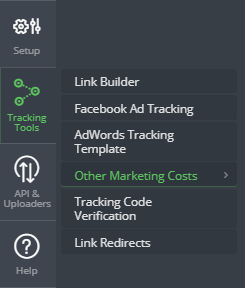 NOTE: Some non-English characters can cause problems for our database. Please use UTF-8 encoding for your CSV files whenever possible.

You will have to provide the following fields:
Date - Format: (MM-DD-YYYY or MM/DD/YYYY)

Cost - Should be a number with no currency symbol and greater than 0.

Source

Medium
Campaign
Content
Term
Wicked Source
Wicked ID
Note: All columns should exist - including Wicked Source and ID - even if no values are provided.
You will be able to make individual entries, or upload a CSV file with as many entries as are necessary using the provided interface:

CSV Import Limit
At this time, please limit uploads to 1,000 lines at a time

Wicked Service Request
If you need to upload more than 1000 lines, please open a support ticket (support@wickedreports.com) and we will upload the file for you. Please allow 2-3 Business Days to complete the request