How to customize Last Click Attribution by ignoring specific types of clicks.
Last Click Attribution is designed to give you a clear picture of what's actually driving sales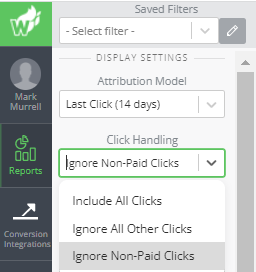 conversions, across all your marketing channels.
Many times a Facebook Ad click or a Google Ad Click drives a user to take some action, but an email click or some other non-paid link gets clicked prior to a sale and receives the last click credit.
This can lead to lower ROI and ROAS on bottom of the funnel ads. It's very common that an ad click actually helps drive awareness and without that click, a sale may not have occurred, so you may wish to see this impact your ads are having so you can better analyze what is really working.
For this reason, we allow you to customize your Last Click Attribution with the following settings.
Include All Clicks: Traditional Last Click attribution. Which click was the last click prior to a purchase
Ignore Non-Paid Clicks: Last Click will ignore any click we can't find costs for. This will allow you to ignore email, organic and any other un-paid traffic to better understand how your paid traffic is helping toward sales conversions. If you ignored all non-paid clicks, would this specific click get Last Click Attribution?
Ignore All Other Clicks: Treat every individual click as if it's the only click the contact ever made. If you were to ignore all other clicks, would this specific click get Last Click Attribution?
When using Ignore All Other Clicks, it is normal and expected behavior that a campaign or Ad Group/Ad Set may take credit multiple times for a single sale.
This is because if two different ads within the same campaign get clicked prior to an order, if you Ignore All Other Clicks, each of those clicks will get credit for a sale. If that happens, the sale will show up multiple times in the row for a Campaign, Ad Set or Ad Group.
Watch this video to learn more about these options