Wicked Reports uses Facebook Offline Conversions to give incremental, anonymous attribution to Facebook when we feel it is fair and realistic to do so.
Should you use Facebook Offline Conversions via Wicked Reports?
Do you trust anonymous 28-day view and click data from Facebook if it is only considered in the manner Wicked Reports considers the data as described in this document?
Do you want trust view-through conversions in general?
Does your marketing funnel have a lot of Facebook video?
Are you ok with ignoring Facebook offline conversion purchases that might overlap with Facebook pixel purchases from within the Facebook ad manager?
Do you actually have purchase done offline that you drive with Facebook campaigns?
If your answers are "Yes" to the questions above, then you will want Facebook Offline Conversions turned on within Wicked Reports.
Why Wicked Facebook Offline Conversion Sync was Created
We created this feature because it increased the amount of attribution coverage for heavy Facebook advertisers, especially those that incorporate video.
Facebook offline converisons are usually used by Facebook advertisers to tell Facebook when a CRM or POS system has made a conversion offline in a manner that would not be detectable by the Facebook pixel.
However, Wicked Reports worked with Facebook to give an additional benefit - provide incremental, anonymous attribution to Facebook advertising when there is no detected last click from any of your marketing channels.
Each day for Last Click attribution, Wicked Reports attributes sales back to the last click detected. We then transparently show all click and sale data when looking our ROI reporting.
This works great for clicks. However, there are marketing strategies that involve Facebook video views, but not clicks, that deserve credit in some situations.
The question is, when does a video view deserve attribution credit, and can it be trusted when the data is anonymous? Here's what we've done to make sure the answer is yes.
How Wicked Facebook Offline Conversion Sync Works
For all sales that have zero last click attribution, we send the order data up to Facebook in a batch file.
Facebook attempts to match the customer to the last Facebook ad viewed or clicked on.
Facebook attributes the order revenue anonymously to ads in a return file.
Wicked Reports uses the anonymous attribution data to increment the revenue and ROI of the campaigns and ads returned by Facebook.
How this data looks inside of Facebook
Wicked Reports sends a couple of different sets of data to Facebook to help you. We send a batch of unattributed last click orders, and then we also send all of your orders. This helps Facebook optimize your account based on complete customer profile information.
Let's look at a real-life example of this process to help understand the data sent, the accuracy of Facebook data, and how to use this data to measure your real orders against orders recorded by the pixel, and Wicked Reports attribution modeling.
This is an actual Wicked Reports client's sales for the period of October 5-28. Note the client had 4,224 unique sales in this time period.

Wicked Reports sends all of these orders to Facebook. They can be seen in the Facebook Events Manager. The Purchases event indicates 4.2K total events for October 5-28. This matches the number of orders you had. This means Facebook has your order data and can match it against their user profiles to see who has clicked on your ads. This client has 4,224 orders to match against Facebook's billions of profiles, browser data, pixel sniffing, etc.
Notice that the match rate on finding people is 60%! That means 40% of your orders, even when given email, name, and address, plus all of Facebook's data science power, 40% of these orders, Facebook has no idea who they are.
There's nothing wrong with that. You just need to be aware of it when considering your marketing attribution data.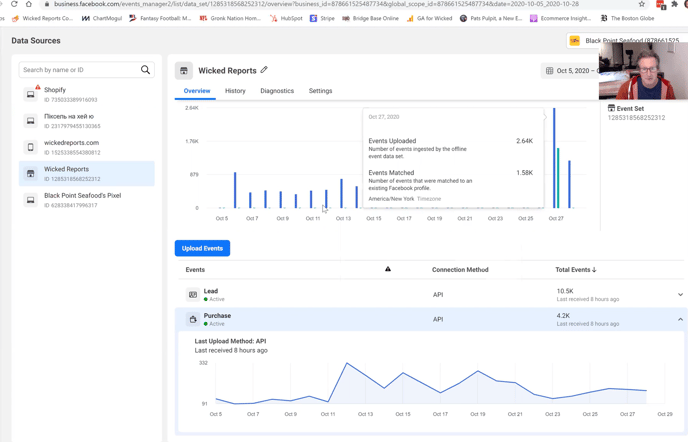 Next we go to the Facebook ad manager to look at the recorded purchases against Facebook campaigns. For this, you need to add the column "offline purchases". To be sure we are comparing apples to apples, I am only looking at campaigns that have a start date within 30 days - in this case all of these campaigns started October 5th 2020 or later. Why?
Facebook looks forward 7 days after a click.
Wicked looks from 1 to 28 days back from a click.
The only way to fairly compare the 2 platforms (and they SHOULD NOT MATCH), is to make sure all the data being viewed is using an attribution window with some overlap.
FB Offline Purchase
- This is a count of sales which Facebook has officially attributed via the Offline Conversion data we've passed into Facebook.
FB website purchase
- Facebook's standard purchase pixel event. You would have configured that to fire on your checkout page.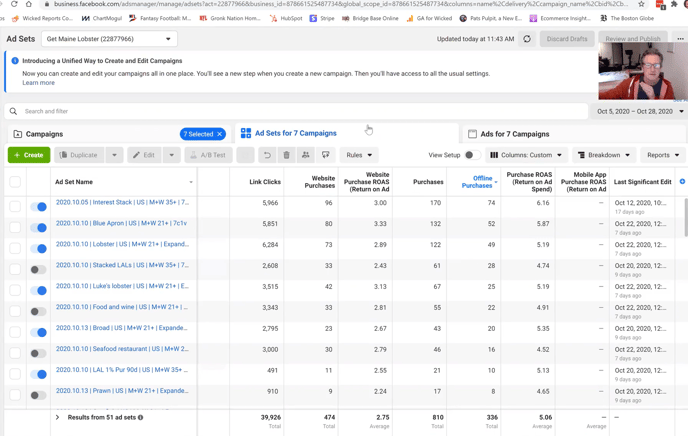 The same campaigns in Wicked Reports for the same time period: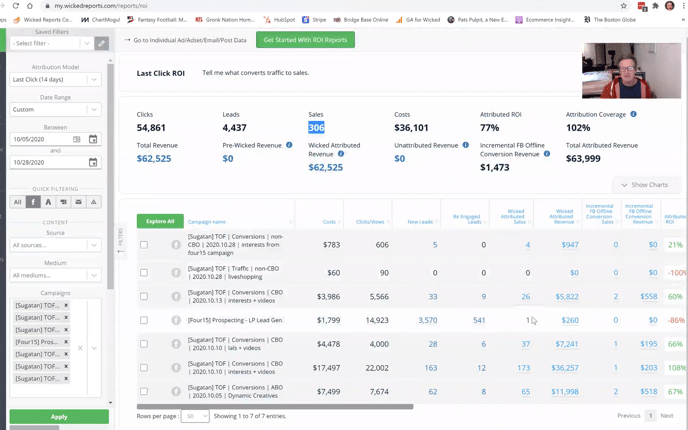 What this data tells you about Facebook Match Rates & Attribution Coverage
The above screenshot shows:
336 Offline purchases - What Facebook could match from the real orders we uploaded - this means out of the 4,224 orders in the time range, 336 were matched to these campaigns and adsets shown.
474 Website purchases - What the pixel thinks - this means the pixel fired 474 times with the standard purchase event and Facebook determined this was the last campaign and adset that either got a click or a view in the time windows Facebook uses.
810 Purchases - Facebook pixel + Facebook offline purchases - lots of overlap, do not trust this number, do not use this number.
306 Wicked Last Clicks - -What Wicked matched between real orders and real clicks, looking multi-channel - Wicked determined 306 orders were caused by Facebook clicks.
6 Wicked FB Offline-Conversion Views - What Wicked trusted from the optimistic view data Facebook suggested - Wicked determined 6 additional orders deserved Facebook last view credit.
For this advertiser, and in general, Facebook offline purchases will more closely match both Wicked Reports and your actual orders that occurred as long
The Facebook pixel, while vital for Facebook's ad algorithm, is generally way more optimistic. There is no known way to reconcile why the pixel reports its numbers.
You can use these 4 fields to see where our differences are with Facebook at the bottom of the funnel sales conversions.
Video walking through the differences inside of Facebook Ad Manager between Wicked last-click sales conversions, Facebook website purchases, and Facebook offline purchases
What about first click, new lead, and re-engaged lead purchase conversions inside of Wicked?
Facebook doesn't have a true, clean understanding of customer lifetime value as it relates to top and middle of the funnel conversions. This is one of the true advantages you will have over your competition: You will know the true ROI of Facebook campaigns when leads take time to buy. This will show you much higher revenue and ROAS than you would otherwise see inside of Facebook!
Wicked has attribution models to score your revenue against top and middle of the funnel conversions that matter. You get the inside edge on scaling these "delayed but profitable" campaigns using the New Lead and First Click ROI reports.
How do I setup Facebook Offline Conversions in Wicked Reports? (Accept the TOS)
The first step is to permit Wicked Reports to send your order data to Facebook
To do this, follow these steps either when you first integrate Facebook with Wicked Reports or right now if you did not do this step during setup:
Go to
Setup > Authorizations
Authorize Facebook if you have not done so already. Then, click the
Settings option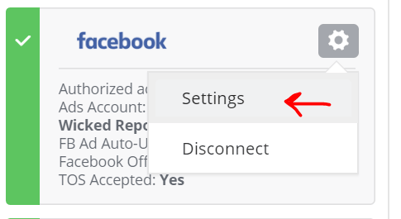 Select the checkbox
to permit Wicked Reports to send your order data to Facebook

Step 2:
1. Go to https://business.facebook.com/ and choose the business account that has the ad account(s) you are integrating with Wicked.
2. Click on the Events Manager menu option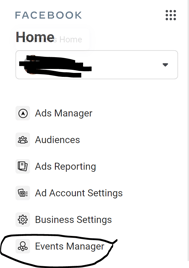 3. Click on the "+" sign in the left-hand menu column. The connect data source box will pop up. Choose "Offline" and then click "Get Started".
4. In the next window, type in "wicked tos" for the name and click create.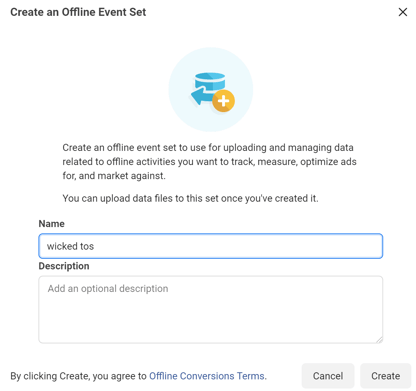 5. Ensure Automatically Assign For New Ad Accounts is turned off. Then, Click the "Skip" button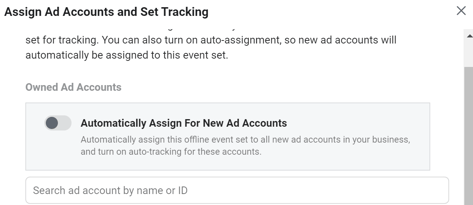 6. You will get this "scary" warning. Confirm.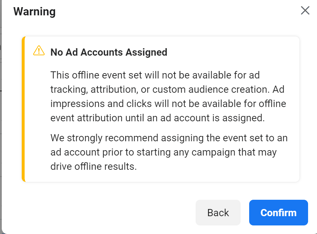 7. At this step, simply click the x to close out.

8. Success!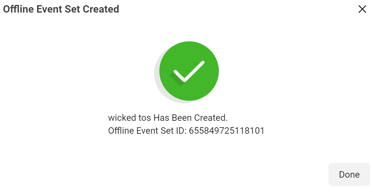 What Happens after Facebook TOS Acceptance
It typically takes Facebook ~24 hours to approve the TOS and update the TOS Status inside your Wicked account

Once approved, Wicked Reports will push your past 60 days conversions up to Facebook. This will not occur until the next calendar day. Here is how you can check that this is successful.
1. Go to the Events Manager.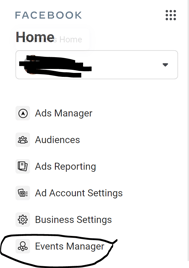 2. Hover over the "+" sign, then click on Data Sources from the menu that pops up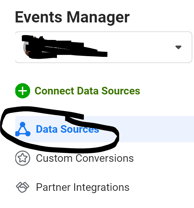 3. Find "Wicked Reports" in the data sources (this is NOT the same event you created for the TOS) and click on the history tab. You will see a log of the conversion data sent.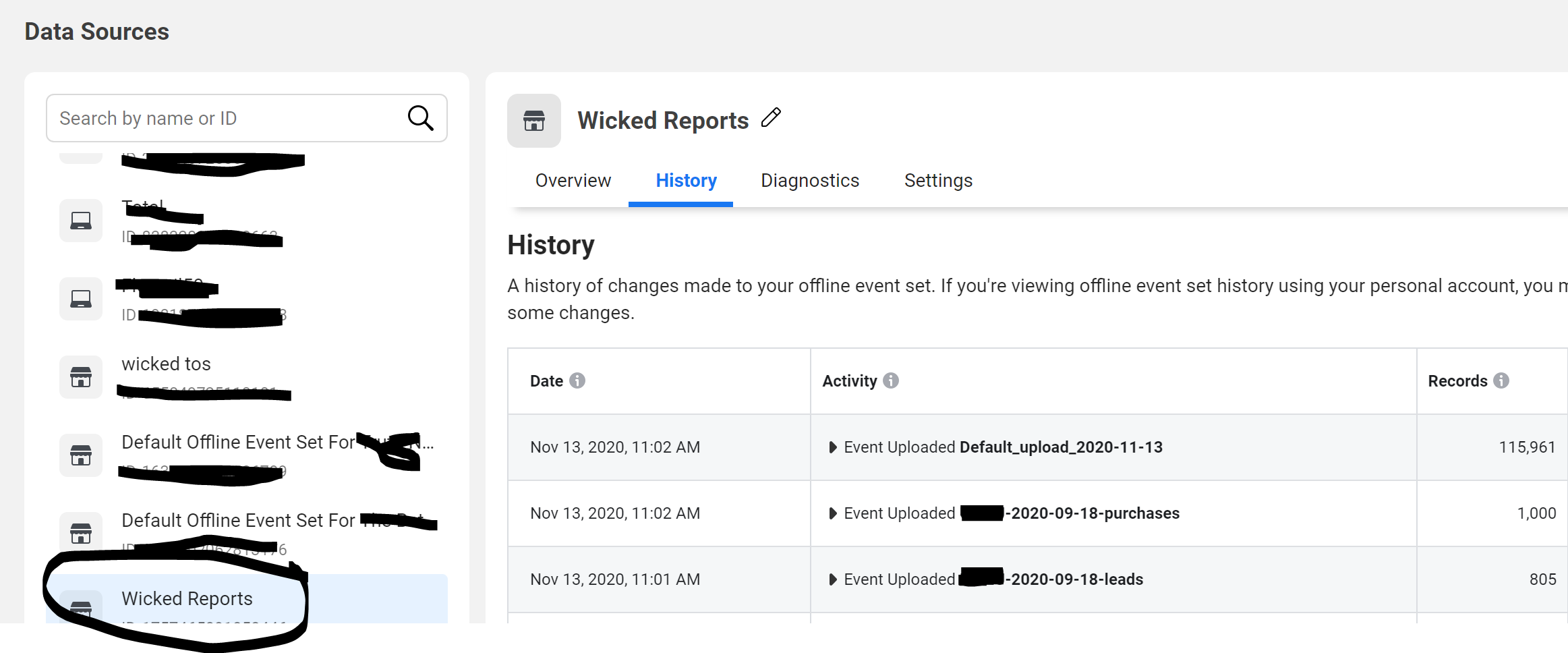 FAQ
I don't want my customer data sent to Facebook, what should I do?
Turn this feature off.


I don't trust Facebook conversion data. Should I turn this off?
It depends. If you agree with Wicked's logic on when to use Facebook conversion data with this feature, keep it on. If you don't, turn it off.


I don't like how this conversion data looks inside of Facebook because when I add website purchases and offline purchases together, the total number of sales is too high. What should I do?
You should not add those purchase counts together, there is likely overlap. Fortunately, the Facebook campaign optimization options do not consider both purchase types, it's either one or the other. If it is driving you crazy to see the overlapping conversions, you can remove those columns from your Facebook reporting, or turn the feature off.


I've read this doc and I'm not sure what to do, what do you advise?
We advise you to turn it on because customers almost always prefer more ad platform attribution over organic traffic attribution.
I see some other custom columns with "Wicked" in the name, what are those?
We have a number of datasets we send to Facebook to help determine trustworthy view data. These should not be used for data analysis purposes. But here are the definitions if curious.

Wicked Sales last click attribution: This is a count of sales which Wicked Reports has determined had a different last click than what Facebook shows. This could be a click on an Email or a Google Adwords ad or any other tracked click, other than the one Facebook thinks it was.

Wicked Sales 0 last click attribution: This is a count of sales for which Wicked Reports does NOT have a Last Click Attribution, but Facebook does. This could be due to your Wicked Reports last click attribution time window, tracking errors on your Facebook Ad or perhaps missing Wicked Tracking code on landing pages, etc.

Wicked Sales 0 attribution: This is a count of sales which Wicked Reports has NO attribution of any kind, but Facebook does. This could be due to your Wicked Reports last click attribution time window, tracking errors on your Facebook Ad or perhaps missing Wicked Tracking code on landing pages, etc.