This document is for Media Buyers, Brand Marketing Directors, and Brand Owners looking to understand when their New Lead generation campaigns reach breakeven.
Common New Lead Acquisition Scenarios
Here are some common scenarios media buyers, brand marketing directors, and brand owners face that require a quick answer to the question "When am I breaking even?"
You have a marketing funnel that requires email, retargeting, and/or sales outreach to close the sale after a new lead is generated
You are an Ecommerce company running ads to discount sales offers and to entice the prospect you offer a coupon or discount if the prospect opts in to your email list for the discount first.
You offer subscriptions that maximize customer lifetime value
You have a free trial of some kind and the actual conversion to revenue happens later in the customer journey
You get repeat buyers but the lead costs have been rising and you're no longer sure if the leads are worth buying
Why you need this
The goal of marketing is to generate more revenue (right??). With the constant cycle of new leads entering your marketing funnel, existing leads either converting or dropping out of your marketing funnel, and customers repeat buying or getting subscription rebills, it turns into total data chaos trying to calculate your marketing return.
That's why it's kind of nice to get a quick simple answer of "When do I breakeven on these leads I'm buying?"
Breakeven date gives you some confidence if you have to buy leads at a negative ROI initially - which is most businesses these days!
How To determine your breakeven point on New Lead generation campaigns
Wicked Reports tried to make this as easy as possible. The only thinking required on your part is the "Estimated cost per lead" filter input. You can use your best guess if in a hurry.
Or even better, use our handy KB guide https://help.wickedreports.com/how-to-optimize-what-you-can-pay-for-new-leads to let your data tell you what you should pay for a new lead - what a novel concept!
1. Go to the New Lead Cohort report.
2. Enter your filter settings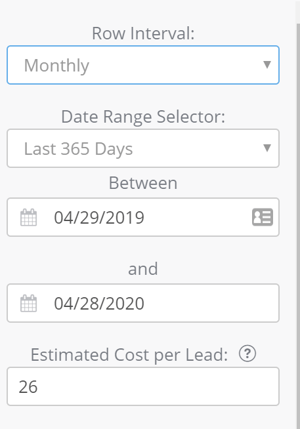 Row Interval - I like to use a monthly interval as a default option here. You might also want to choose the 7/21/30/90 interval if you have a fast closing funnel. Experiment to find what gives you the best intel. This filter selection has no bearing on the breakdeven calculation, but it does change how we bucket and display the customer lifetime value.
Date Range - Go back 1 year. You could go back longer or select any date range you like - this report gives you insights even if you do not have attribution data for the time period.
Estimated Cost per Lead - Input a number - it's required for a breakeven date to be calculated
3. Click apply.
The results will show your current breakeven date in days. This is based on how long it takes new leads to accumulate customer lifetime value that is equal to the estimated cost per lead.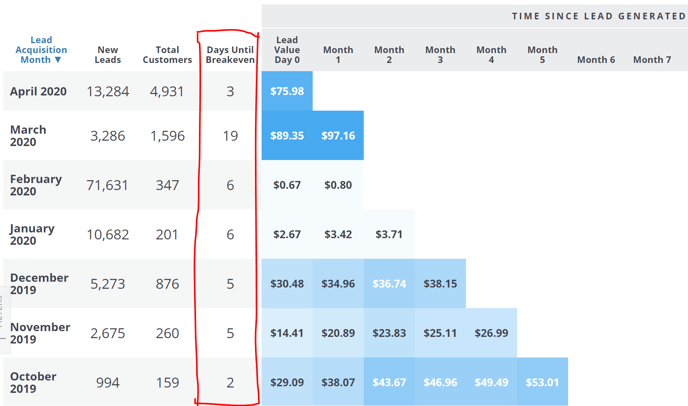 How easy was that?
WickedSmartz Tips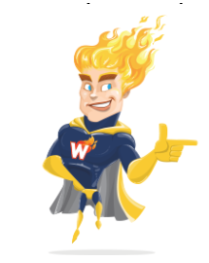 Notice how in this case the months with less leads have higher customer lifetime value. That is not always what will happen, but it is always worth keeping in mind.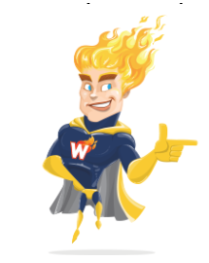 This report works without any need for attribution data. Wicked Reports only needs your CRM and Order systems integrated and then a day to process the data.
Once you have tracking and attribution data, you can filter this report by tracking link UTMs (that we usually auto-generate for you) and the different costs per lead for each marketing channel. The customer lifetime value will fluctuate, often significantly. This customer lifetime data is the foundation for our ROI reporting.
Troubleshooting
If you do not see data after clicking apply, it means either your CRM or Order data is not integrated yet with Wicked Reports.