Wicked Reports provides a ton of wicked valuable information about your business and your customers. This means however that there's a lot of information and we don't blame you if some of it may be a little confusing.
There's also a decent amount of effort on your part to make sure that you are continuing to use the proper UTM values and ensuring that the Wicked Tracking code is on all new pages you create.
Support Email
Because of all this potentially confusing information, we are committed to being here to support you. You are welcome to contact us with your questions at
support@WickedReports.com
and we will get back to you with an answer. If your question is too complicated to answer via email, someone from our support staff may set up some time to have a call to help solve your problems.
"Office Hours" Webinars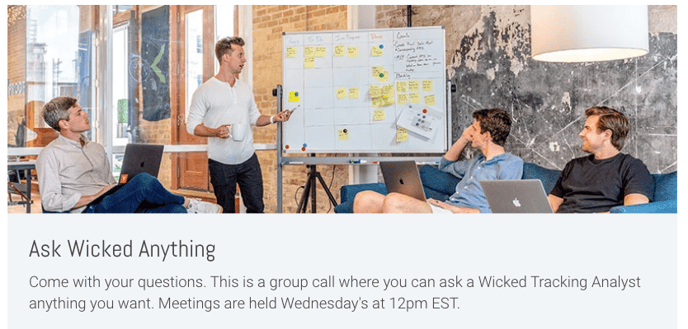 We also host one weekly "Office Hours" webinar. These are live webinars where customers can come on and ask any question they like. It can be about getting set up, analyzing data or even about data tracking strategies. It doesn't really matter, we'll do our best to answer your questions.
You can register for these Webinars here:
In the meantime, hopefully our FAQ Section will be able to provide an answer to your question.