Wicked Reports Live Data gives you nearly real-time access to your marketing data so you can optimize your marketing throughout the day and leverage trends as they happen.
Live Data is currently ONLY available for users with the following tech stack:
Any of these Contact Systems: Actionetics(Clickfunnels), Klaviyo, API, or HTTP Post
AND...
Any of these Order Systems: Shopify, Recharge, WooCommerce, ThriveCart, Magento 2, PayPal, API, or HTTP Post

If your tech stack includes a software that is not listed above (e.g. Infusionsoft), then Live Data is not available. We are expanding the Live Data report so it becomes available for more integrations.
What is Live Data?
The Live Data report allows you get a comprehensive and robust view of how your marketing is performing TODAY in real-time. The Live Data report will allow you to select data up to the past 8 days to be included with the Live Data from today
Roughly every 30 minutes, the Live Data will refresh with updated information to show you how much money has been spent today, how many sales and leads have come in today and how we have attributed those sales and leads to your marketing efforts.
This will allow you to act quickly to adjust your ad spend throughout the day and optimize your marketing budget as you see fit.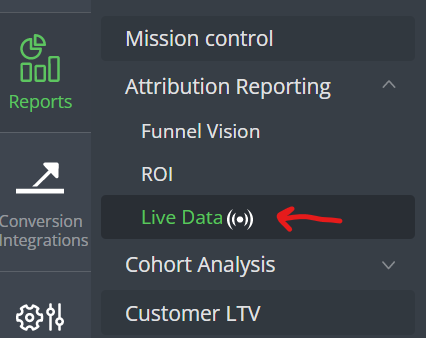 Learn More About The Live Data Report