Klaviyo has "How They First Found You" data fields for profiles that can be used to see Wicked New Lead LTV tracking with information....here's how.
This is a one-time, optional step to provide additional Klaviyo value. Wicked Reports tracking and attribution will take this over much more efficiently once you have completed your setup process.
Data is only as good as the quality of the data. The "How they first found you" utm values aren't always optimal - look at your values and decide if it is worth having this data inside of Wicked Reports - it very well might be valuable, just make sure first.
Let's do this.
Create & export a custom list from Klaviyo
Head on over to Klaviyo's "Lists & Segments" menu option and choose to create list/segment.
Choose "Segment"
Give the segment a name, set the property filter as shown below, and click "create segment"
When the segment is done populating, choose the export to CSV option
Select these 6 fields: Email, Initial Source, Initial source Term, Initial Source Medium, Initial Source Campaign, Initial Source Content:

Start Export - It's super fast, hat's off to the Klaviyo tech team.
Save the file. You're ready to move on to file prep.
Prep the fields for import into Wicked Reports
Open up your CSV. Filter the Source field for blanks.


Delete these rows
Download the Clicks CSV Import template file. and delete the 3 sample data rows
Cut and paste the data from the Klaviyo csv name on the left-hand column to the Clicks CSV template file right-hand column name in the table below:

| | |
| --- | --- |
| Klaviyo Export column name pre-formatting | Column header name for import success |
| Email | EMAIL |
| Initial Source | SOURCE |
| Initial Source Term | TERM |
| Initial Source Medium | MEDIUM |
| Initial Source Campaign | CAMPAIGN |
| Initial Source Content | CONTENT |

Set the time zone field in UTC to be the same value for every row. Eastern time is UTC-5.
Set the "CONVERSION TYPE" field to NEW_LEAD for every row.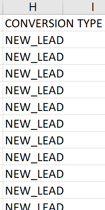 The file is ready for import!
Go to the Clicks Importer screen
Click on the box in the "Upload New Clicks" tab and pick your file.
The file will import...this is a dramatic moment. There are 3 outcomes:

Success!
Column header issue - they must be in the exact order and case as indicated in this document.
Mostly success - there might be an issue with a few rows, such as belowIn this case, say "yes", because we can import all the rows except the 1 errant row.

the next screen will show all your rows in a review state - in the "pending" status
Click submit at the bottom of that grid to receive this message
Upload status will show, and the clicks will be in the ROI report using New Lead attribution, with customer lifetime value, the next day!
See the LTV of your uploaded data inside of Wicked Reports
[Optional] - Add costs for the unique UTM sets identified by Klaviyo
Wicked is able to detect and attribute ad spend automatically for Google and Facebook after you have integrated with those platforms.
For this manual import, you have to assign the costs manually -> here's how.