TikTok ads have a very easy 1-time process to setup tracking.
TikTok Account Level Tracking Setup
TikTok ads need you to append a specific UTM string to your ad URL in order for Wicked tracking to work properly.
Each Ad Details section has the URL field as shown below: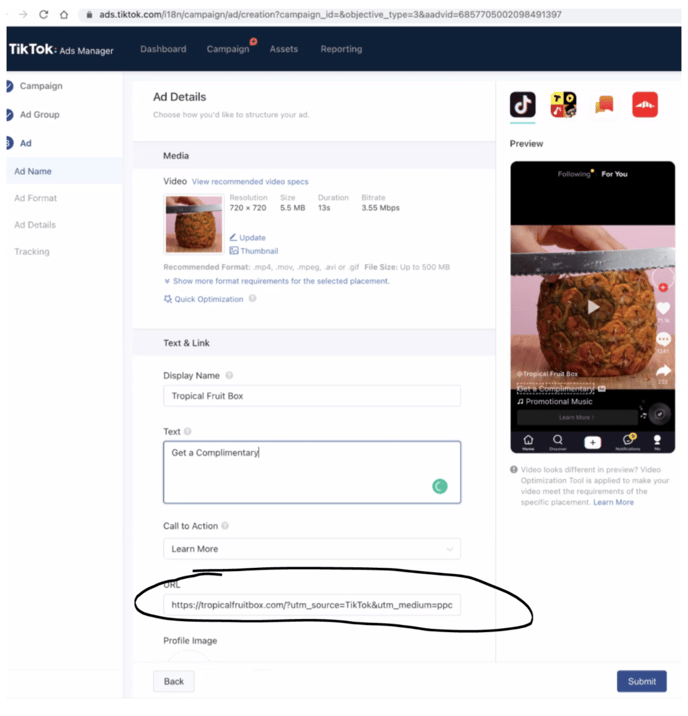 For Wicked Reports, we need the final URL field to have specific text.
The final URL text: utm_source=TikTok&utm_medium=PPC&utm_campaign=[type-in-your-campaign-name-here]&utm_term= [type-in-your-adset-name]&utm_content=[type-in-your-ad-name]
You will want to replace [type-in-your-campaign-name-here] with the name of the TikTok campaign. It's best practice to name campaigns without spaces. If your campaign name has a space, put a hyphen to indicate the space.
This will give the ad clicks the correct parameters for Wicked Reports. Remember, all clicks need to hit our landing page with the parameters intact, no redirects.
Wicked tracking script on all TikTok Ad destination URLs
Now that we have the ad click info being sent to your pages, we need to have our tracking script on the pages ready to detect the clicks.
If you have Google Tag Manager deployed throughout your marketing stack, great news, follow these simple instructions here: https://help.wickedreports.com/wicked-tracking-code-with-google-tag-manager
Those of you without Google Tag Manager can find instructions in this section: https://help.wickedreports.com/setup#utm-and-tracking-setup
Step #3 Tips:
How to view TikTok ROI results inside of Wicked
It is very easy to see TikTok results inside of Wicked Reports. Simply select or type "TikTok" into the Source filter field of the ROI report filters section. Then run the report.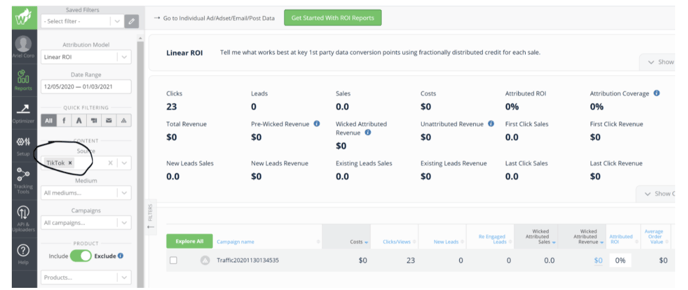 Adding Costs to TikTok Ad results
After doing the above steps, Wicked can easily track clicks, leads, sales, and LTV from TikTok. But you will notice, there is no cost data, and thus no ROI.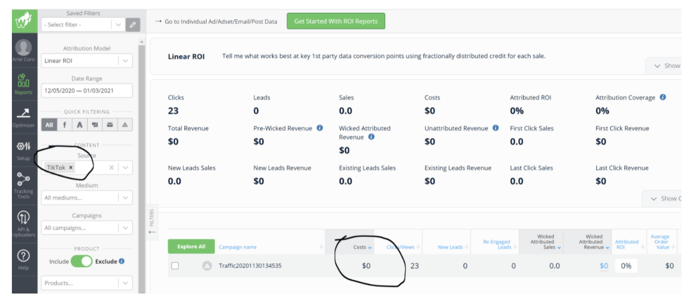 Wicked does not have a cost integration with TikTok, so you need to manually import the ad costs. Doing this at the campaign level is not difficult. Simply export your campaign costs from TikTok and then format the CSV to match our marketing cost import requirements.
Here is a help doc on Marketing Costs:
Make sure you use the exact UTMs form the TikTok Ads when you import so it matches.