To configure tracking on Calendly event links requires a Calendly Pro account.
With Calendly Pro you get the ability to configure custom landing pages. With this ability, you can direct users to a tracked landing page containing your Wicked Reports tracking widget.
Configure the Initial Link
To track the initial link click, pass the standard 5 UTM parameters along with your scheduling link.
For example, your booking link is https://calendly.com/you/20-minute-call and you're driving traffic from an email campaign encouraging contacts to book time with you. In this case, you would configure the link you are sending out to your list to look like this:
https://calendly.com/you/20-minute-call?utm_campaign=book-a-call&utm_medium=email&utm_source=email-automated&utm_content=01-first-attempt&utm_term=existing-list
Pass Tracking Through to the Thank You Page
On the Confirmation Page tab of the Calendly link setup, select Redirect to External Site as the On confirmation action.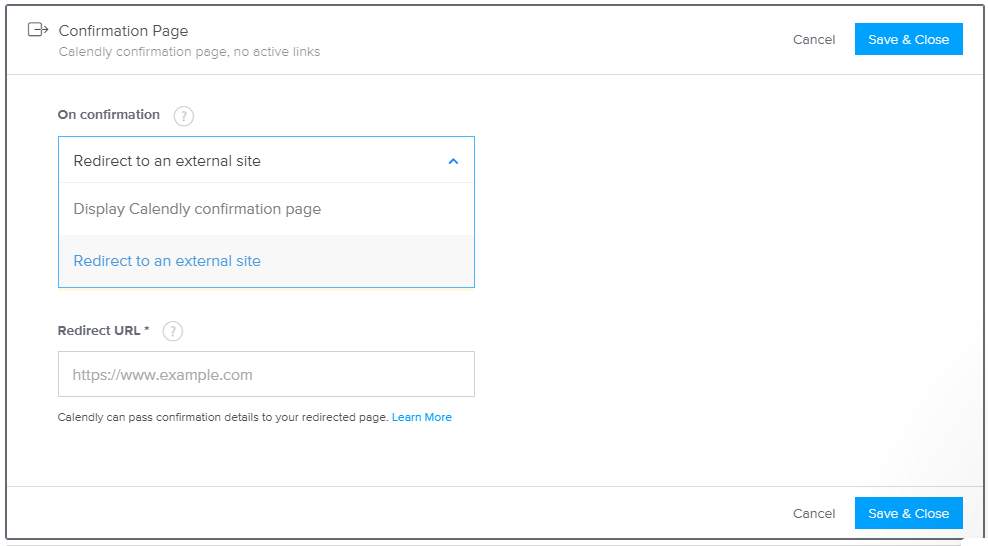 Specify the URL of the custom Thank You Page that contains the Wicked Report tracking code and the URL parameters and user email address will be passed through and captured at that time for attribution.
These instructions reference the Calendly Help article:
https://help.calendly.com/hc/en-us/articles/226767207-Confirmation-Page-options#4