The purpose of this document is to provide insights into how our Shopify integration actually works.

Note: Wicked Reports in an Unlisted App in the Shopfiy Store. When attempting to authorize your Shopify Store inside Wicked Reports, you will need to click a button that says "Install unlisted app"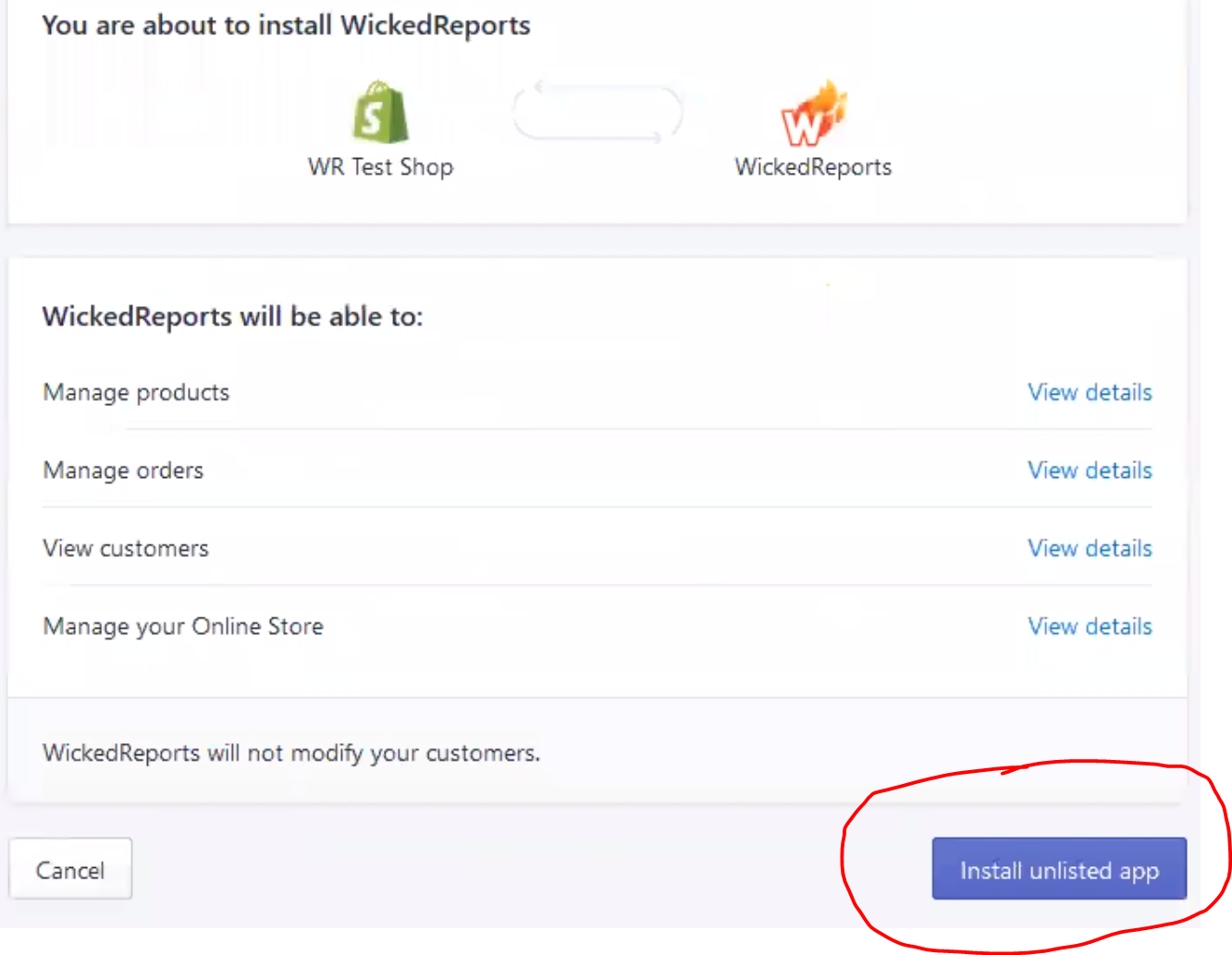 After you authorize your Shopify store inside Wicked Reports, the following happens:
We add the Wicked Reports Tracking Code to all pages of the Shopify Store (except the order form / checkout page)
On the Thank You page, we add a Hidden text box with the customer's email address
The reason we do the above steps, is because Shopify does not allow you to put Custom Tracking Code on the Checkout page of your store. To get around this, the Thank You page will have our Wicked Reports Tracking Code and the hidden text box, so that the Tracking Code will fire when the Thank you Page loads.
Our Logic allows for a click to get credit for a sale, up to 15 seconds after the order is processed. So, what will happen is that the Order will occur, and then within a couple of seconds, the Thank You page will load and the tracking code will fire, creating a "Click" so we can still provide attribution to the correct click.
There is no need to verify that the tracking works for Sales using our Tracking Code Verification tool. It will work and if the customer were to enter one of their product pages to test, if you go through the order process, when you get to the Thank You page, if you end the test after it loads, it should pass.
Doing "Traffic Detection" or "Optin Tracking" will not work because the Tracking Code is NOT on the Checkout page
Note: Many customers use Shopify plugins for upselling, etc. You will need to confirm how those tools work because some of them after an order, don't go to a Thank You Page, they take the user to an upsell page. They also use different Check Out pages and you may be able to separately put the Tracking Code on those Checkout pages.

One tool we are working with is Zipify OneClickUpsell. They are updating their software to allow users to put their Tracking Code on their Order Forms.