API Frequently Asked Questions (FAQ)
Q: Should I set up the rest of my account before or after I set up the API?
It would be best to set up the account, as far as, completing the Fast Setup, connecting your authorizations, and adding tracking to landing pages and URLs before the API has been set up. It is recommended you complete your Setup Audit call within 1 week of signing up with Wicked Reports so we can verify we are tracking correctly. If your account is set up while building the API, we can attribute clicks, leads, and sales historically when you start sending us contact/order data. Please contact support@wickedreports.com with questions about the API and attribution while it is being set up.
Q: What is the up time of the Wicked Reports API Gateway?
A: API Gateway up time for the past year has been 99.9%. We seen an average of ten HTTP 500 per approximately ten thousand calls. With effective retry logic implemented in your custom API integration code, failures should not be a problem.
Q: Can I delete Bad/Test API Data?
A: Currently, the only way to delete test API data is to contact support and request to have the data deleted. You can contact
support@wickedreports.com
with the details of the API Data you would like to have cleared out. Within a couple of days, we can complete your request.
Remember that if you want to test the API, you can use the test header as described in the
Wicked Reports API Documentation
so you can pass data in and not have it impact your reports.
Q: Do I need Retry Logic for my API Calls to Wicked Reports
A: We highly encourage you to use Retry Logic on your API Calls to Wicked Reports. Wicked Reports cannot guarantee we will always receive your API Calls. If an API call fails to connect to our Server, please be sure to have logic which will attempt the connection and call again. If the call fails a handful of times, you are welcome to contact Wicked Reports and we will look into the matter.
Q: Why Don't I See Products?
A: Please verify that you have created the products using the API. If you have not yet created Product, the orders you create will not be able to associate to a product and will therefore not be shown in the reports.
Q: Is There A Way To Update Products?
A: Yes, if product information is passed into the API with the same ProductID, Wicked Reports will perform an update on the ProductName and ProductPrice values for that ProductID.
Q: Will Contacts Be Updated If We Pass In The Same ContactID?
A: No, we do not update contact data via the API. Duplicate ContactIDs are ignored.
Q: Will Wicked Reports filter out Duplicate contacts passed into the API?
A: Yes, we prevent email addresses from being added multiple times. You will see the email will show up in the API Verification section multiple times but when we process the data into Wicked Reports, we only add it one time.
Q: What Is SubscriptionID Of An Order?
A: The SubscriptionID represents a unique value for each customers chain of subscription payments. This SubscriptionID ties recurring subscription payments together. Each payment for the same customer subscription should use the same subscription ID. This allows us to populate MRR reports as well as help us determine the first payment in a subscription.
Q: Does SourceID sorting use Numeric sorting or Alpha-Numeric Sorting?
A: Wicked Reports will sort Alpha-Numerically because there are a number of systems that use Alpha-Numeric sorting. So, we are not able to always sort numerically.
Q: What Timezone Do I Pass in Dates With?
A: Date fields in the API should always be passed in with UTC-0 time.
Q: How are Declined / Refunded Payments used in the Reports
A: When selecting Net (instead of Gross) in the reports, we attempt to remove all Declined, Refunded payments from the revenue. By passing in Declined and Refunded Payments, you'll get a more accurate count of Revenue.
Q: Where Do I Get My API Key?
A: Your API Key can be found by enabling API for Contacts and/or Orders on the
Authorizations
Screen of Wicked Reports (
http://my.wickedreports.com/auth/dashboard
). Until you enable the API, your calls will not be processed inside Wicked Reports.

Q: How can I verify the data we've passed in via the API?
A: When using your Live API Key, you will be able to verify the data you are passing in via the API on the
API Verification
Screen of Wicked Reports (
http://my.wickedreports.com/extras/api
). Each tab on this screen is related to one of the API Endpoints and allows for limited filtering.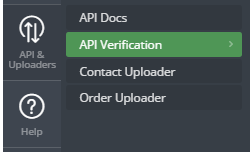 Q: Is there a delay from when I call the API until is shows up in API Verification?
A: No, once the API call is made, it should show up very quickly. If you still are not seeing the data you passed in, please verify the following:
Have you enabled the API for what you are trying to create (Contacts and/or Orders)
You are using your Live API Key, not the Test API Key.
Your date selection filter is correct. The filter uses Data Added for filtering rows to show
Are you on the correct tab? If you are creating orders, make sure you are on the /ORDERS tab