Note: We are currently implementing a native AWeber integration. Lead Ad support has not yet been implemented. If you are an AWeber user who runs Facebook Lead Ads, please let your sales person or Customer Success Rep know and we will help test this functionality.
Our Zapier integration is not yet listed in Zapier's Application directory. In the meantime, you can use
this link to access our application within Zapier.
How to Connect Aweber with Wicked Reports
How we will get the data from Aweber
1. Log into Zapier
2. Click Make a Zap
3. Choose Aweber
4. Choose Trigger-Choose new subscriber
5. Click Save + Continue
6. Click Test
7. Click Save + Continue
8. Choose your account from dropdown list
9. Choose the list from Aweber you want to import into Wicked Reports
10. Under status, choose subscribed
11. Click Continue
12. Fetch and Continue-Will test successful or unsuccessful. If unsuccessful, fix any necessary errors.
What data we will import into Wicked Reports
13. Choose Webhooks
14. Select Post
15. Enter in the HTTP URL from your Wicked Reports authorization screen under Contact data
16. Payload type-Form
17. Here is where you will select which data is imported into Wicked Reports. You will need to format this section exactly like this screenshot for the data to come in correctly: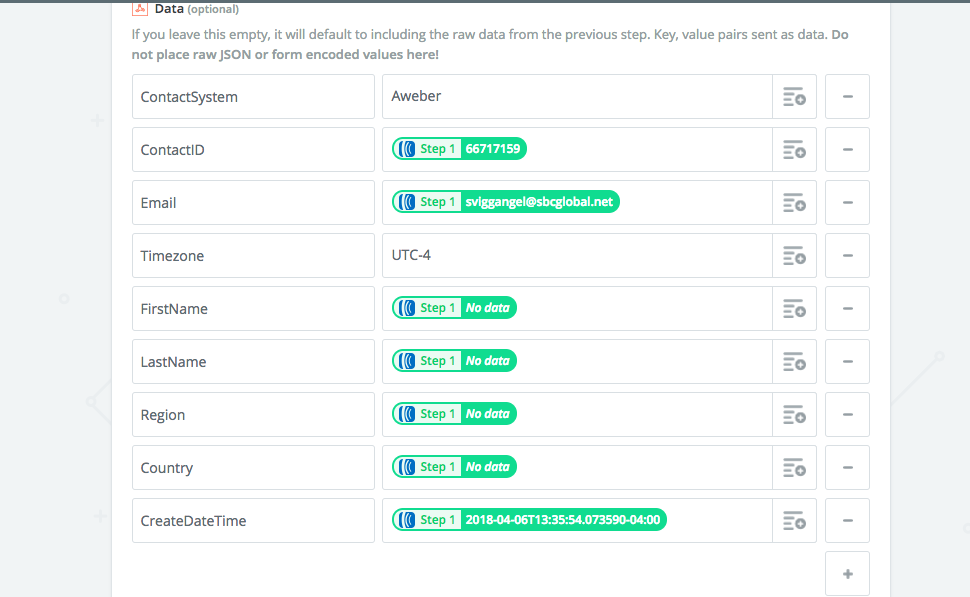 18. Choose Under Unflatten-No
19. Click Continue
20. Click Test
21. The final step, Name Zap and turn on Zap