How email tracking works, how to set it up inside of your CRM, and how to verify that email tracking is setup properly.
About Email Tracking & Wicked Reports
Wicked Reports provides multi-channel multi-touch attribution. While paid and social media get most of the attention, good ole email still works and converts many sales. Wicked Reports looks at all clicks from all channels to determine revenue credit for the various attribution models. To give email proper credit, proper setup is required.
Email last click sale tracking is a great way to get used to using the ROI report to see a marketing channels performance.
Some of the Wicked Reports' CRM integrations provide deep email integration and do not require further work beyond the simple one-time integration instructions. Other CRM integrations require UTM tagging on the individual email links in order for the email click to be tracked.
All CRM integrations require that the Wicked Reports tracking code be placed on the website, optin form, and order forms in order for tracking and attribution to be effective.
Step 1. Email UTM tagging
Here are the deep email integrations that auto-tag email clicks with the correct tracking information for Wicked Reports: Klaviyo, HubSpot, ActiveCampaign, MailChimp, and AWeber. This means you can proceed to Step 2 if you have already integrated these CRMs listed. Your CRM already sends Wicked Reports email data it can use to attribute, as long as you have the Wicked tracking code installed.
If your CRM is not listed above, you will need to proceed with manual UTM tagging of your emails: Proceed to Step 1b.
Your Wicked kickstart package may include 40 done-for-you UTM emails, check with your customer success manager.
Step 1b. Manual UTM email tagging if your CRM is not listed above
For those of you that do NOT have a CRM with deep email integrations (Infusionsoft, Ontraport, ClickFunnels/Actionetics, Konnective, Drip, SendLane, OmniSend, and those using Zapier, HTTP, or our API integration for lead/crm integrations ), you need to manually set the email UTMs.
To build your trackable email links, Wicked Reports provides a UTM link builder: https://help.wickedreports.com/wicked-reports-link-builder
Paste your links in the link builder field, add the UTM tag values, and copy the generated trackable link. Update your email links with the newly encoded link and Wicked Reports has what it needs to identify the email for you.
In the event some of your email links are going to destinations you cannot put our tracking script on, such as PDFs, YouTube channels, Instagram profiles, etc., you can use Wicked Redirect Links to still capture and track the clicks: https://help.wickedreports.com/using-wicked-redirect-links
Step 2: Install the Wicked tracking script
Wicked Reports needs your unique tracking code on ALL of your landing pages, checkout pages, websites, and blogs. Your unique tracking code can be found under Setup -> Tracking Code, which is also here: https://my.wickedreports.com/trackingcode
Shopify stores are auto-tagged with your unique tracking code after you have connected Shopify to Wicked Reports.
The general process for installing our tracking code:
https://help.wickedreports.com/where-do-i-place-my-wicked-tracking-script
If you don't see your landing page/website/checkout platform here, please email us at support@wickedreports.com and we can guide you on where to add the code.
Step 3 See the email clicks & sales in the ROI report after a day
3.1 Go to the ROI report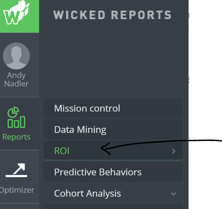 3.2 Set your attribution model to Last Click attribution and use the Email quick filter: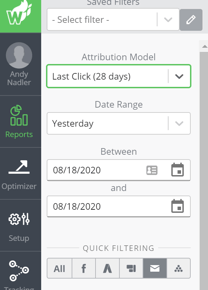 3.3 The ROI report will load up email campaign data results
3.4 To see individual email results, click on the link to go to individual email data. Alternatively, you could select campaigns and then click "Explore Selected".

3.5 The ROI report will show the results of all emails attributed to last click sales for the time period you selected: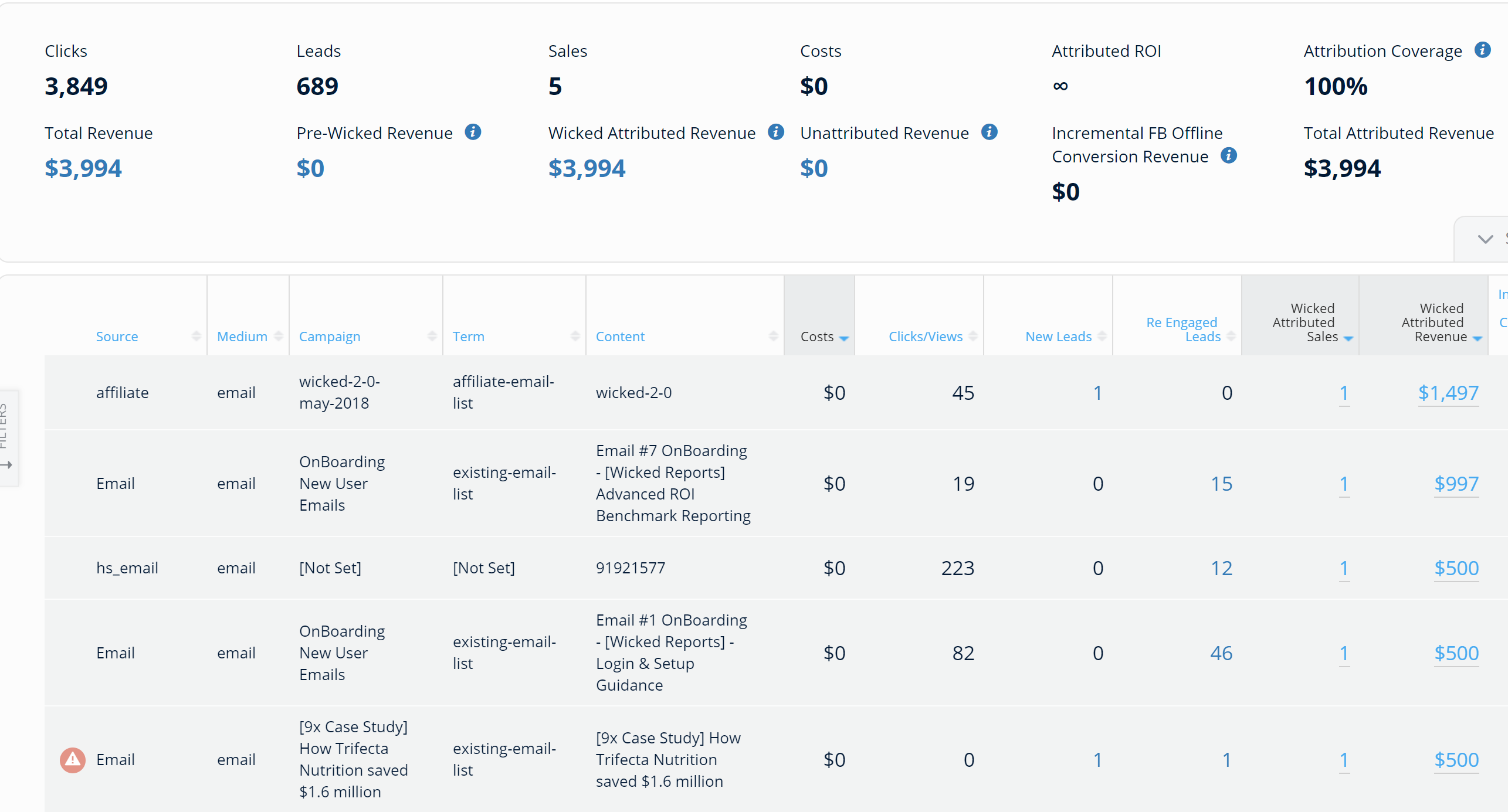 You should see clicks for emails that you setup the previous day. Hopefully you see sales also!
Tips
Mark from GetMaineLobster.com tested out a ton of different email styles and offers until he hit on the ones that make him 7 figures a year - so do not discount testing out emails and using unique naming schemes so you can easily identify the email test from within Wicked Reports.
It's important to add email tracking because email usually still closes it's fair share of sales - sales that paid media platform conversion tracking takes credit for inside of their reporting.
Low performing emails might be due to bad leads being sent the email. Or it might be that you are targeting and acquiring great leads and the emails are not effective enough. This takes a few testing and optimization cycles to get right.
Troubleshooting
If you see email sales, but no clicks, this could be due to the tracking code installation being incomplete. You can test out tracking on any page using the tracking page validator: https://help.wickedreports.com/tracking-validation
Another reason for email sales but no clicks is if the attribution model includes the Re-Engaged Lead conversion point. This conversion measures when an existing lead resubmits their email for one of your offers/optin forms (whitepaper, webinar, demo, sales call, etc.). If the email creates this conversion from a click prior to the ROI time range, and that lead now purchases in the ROI report time range, the sale would appear without the click.