This document is for Executives, Media Buyers, Brand Marketing Directors, and Brand Owners looking to understand how their marketing is doing at a high level.
Why You Need This
Wicked Reports Mission Control dashboard gives you an overall picture of how well your marketing strategy is performing. This dashboard will provide you with overall and channel level ROI, LTV, leads, sales, and revenue for all inbound marketing so you can understand which channels will produce the best results for you in the future. In addition, we provide Wicked Playbooks to help grow your business.
Wicked Charts & Playbook
Wicked Charts
Wicked charts will show you, at a high level, how well each of the following channels are performing over the specified time period (default is 30 days):
Google
Facebook
Email
Organic
Other (other channels/sources you may be tracking)
You are able to see your overall revenue, new leads, sales & ROI. In addition, in the upper right hand corner of the Overall Revenue chart, you can select how you want to view your data. You are able to view your data on a daily basis, weekly basis or monthly basis. By choosing one of these options, your charts will automatically update accordingly.

You are also able to change the timeframe in which you want to view your data by selecting the date selection tool above the Overall Revenue chart:

You can use one of the preselected timeframes or choose your own timeframe. After making your choice, your data will be presented to you.
Note 1: The Mission Control dashboard defaults to NET reporting, but you are able to select GROSS.
Note 2: All data that is calculated is calculated using the linear attribution model.
Wicked Playbooks
Wicked Playbooks allow you to understand how to take action on the data that you've collected. Next to the Overall Revenue chart, you will see the Wicked Playbooks.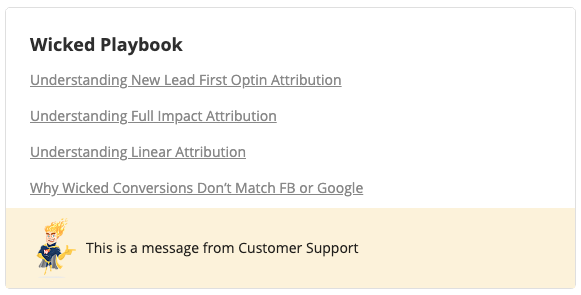 Depending on which stage you are in with using Wicked Reports, different playbooks will be visible.
In addition, customer support is able to send you messages which will show up in Wicked Playbook section (see above in yellowish background). You are able to click on the message to read more and once you click on it, it will no longer be highlighted in yellow.
Wicked Data
In addition to the charts above, we provide a high level overview of your data, in a table, broken down by channel.

Furthermore, you can click on More channels to see additional channels which have provided you with revenue.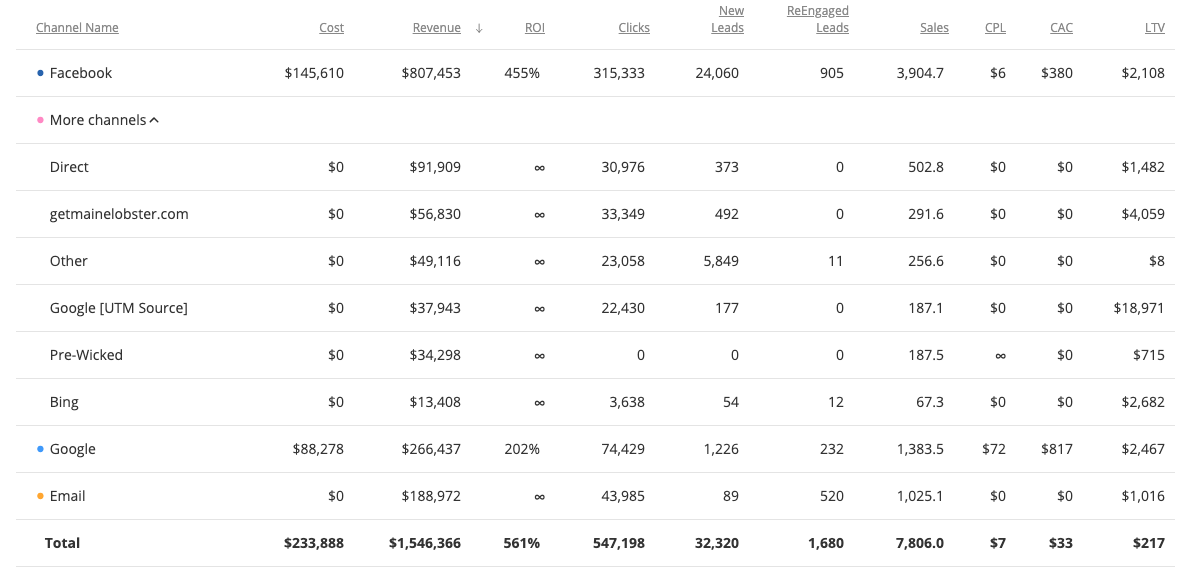 Wicked Smartz Advice
This section will show you, by attribution model, what are your best channels for Number of Sales, Overall Revenue and Overall ROI. You can learn more about these channels and how well they are performing by clicking on the specific channel name and metric you want to explore. For example, if you would like to learn more about First Click Facebook revenue of $949,283 (below), you can click on that row and you will be taken to the ROI report, filtered and sorted by Facebook and revenue.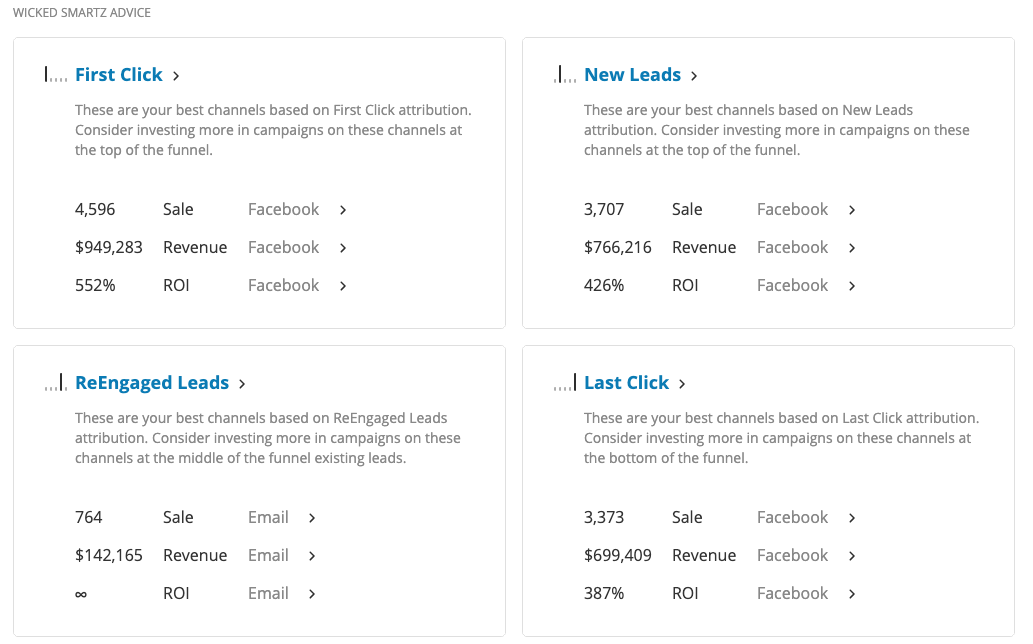 This section can be very useful to see which campaigns are performing the best so you can invest more in these campaigns.
Attribution Health
The attribution health indicator is a percentage of how many new orders we have attributed in the last 30 days. This percentage is useful to know as you are able to tell how well your tracking is setup. This chart will show the last 30 days of your health.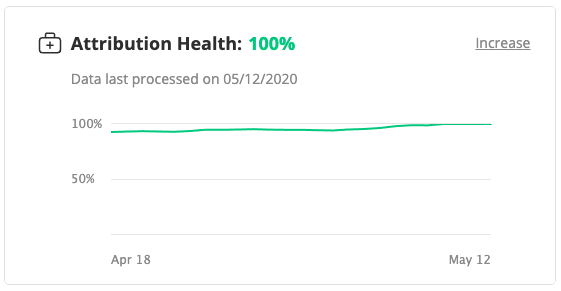 One final note. You will be able to tell when your data was last processed in this section or if it's currently being processed (see the Data last processed sentence above).
Wicked Google Conversion Optimizer
If you have Wicked Google Conversion Optimizer enabled, you will see the number of conversions uploaded as well as the value of those conversions for the selected timeframe (default is 30 days).

Note: If you do not have Wicked Google Conversion Optimizer enabled, you can enable it following this help doc.
Customer Journey (Coming Soon)