Setting up Actionetics to work with Wicked Reports requires Two Tasks.
1. The first task is to export all of your contacts out of Actionetics in a CSV file and send them to us so we can import them into Wicked Reports.
2. The second task is to integrate all of your funnels inside ClickFunnels with Wicked Reports using Webhooks.
Setting up your funnels to work with Wicked Reports will automatically add contacts to Wicked Reports so you'll only need to send us ONE contact CSV file.
Each funnel setup/integration needs to be repeated for each funnel you have inside Click Funnels, but you only need to send us your contact CSV file once.

TASK ONE:
Log into your Click Funnels Account.
Hover over the Actionetics tab and then click on "Contacts"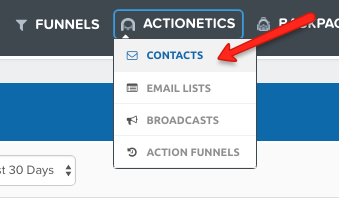 Once you reach the "Contacts" page, select "All Time" from the drop-down menu shown below.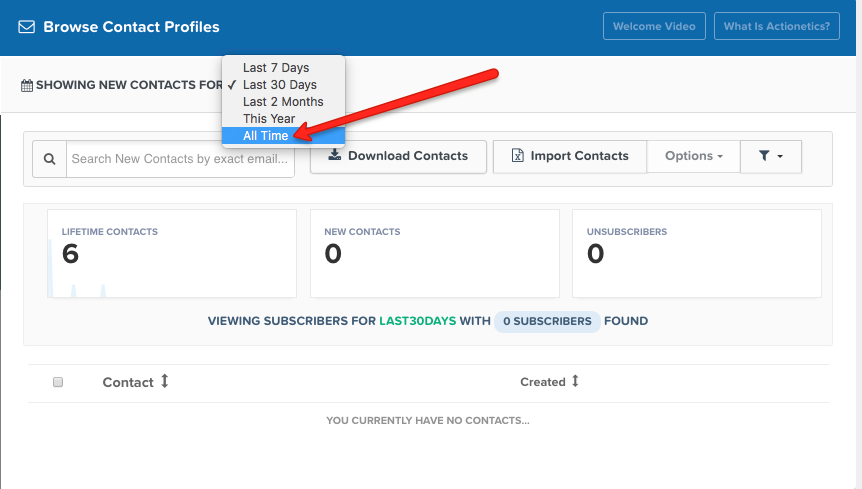 Once you have "All Time" selected as your date range, click on "Download Contacts"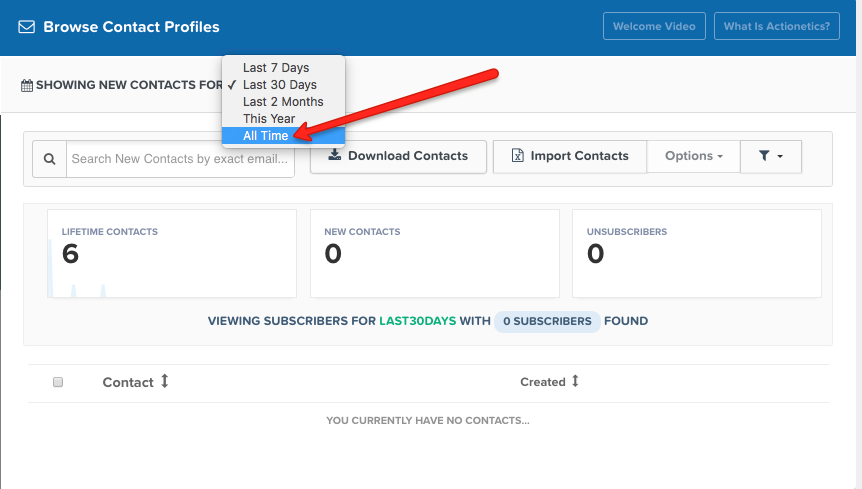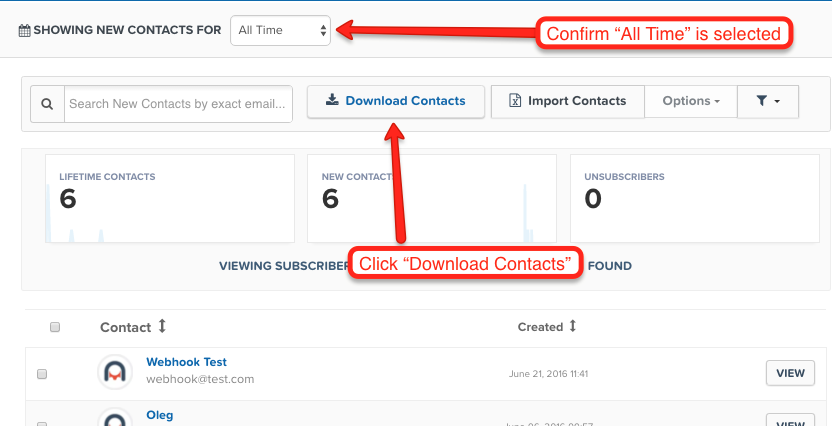 After you click "Download Contacts" you'll be taken to this page below. Once there click "Download"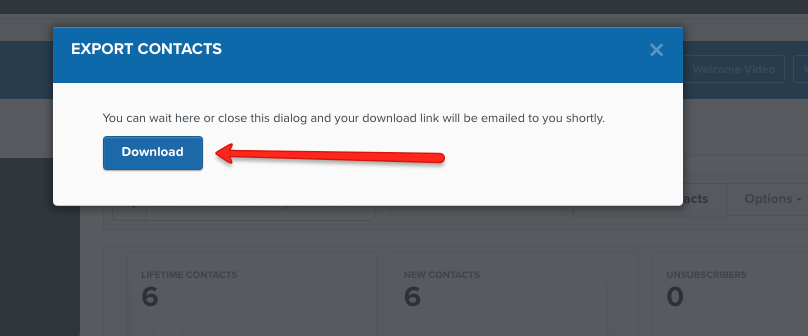 When you land on that page, simply drag and drop your Contact CSV file.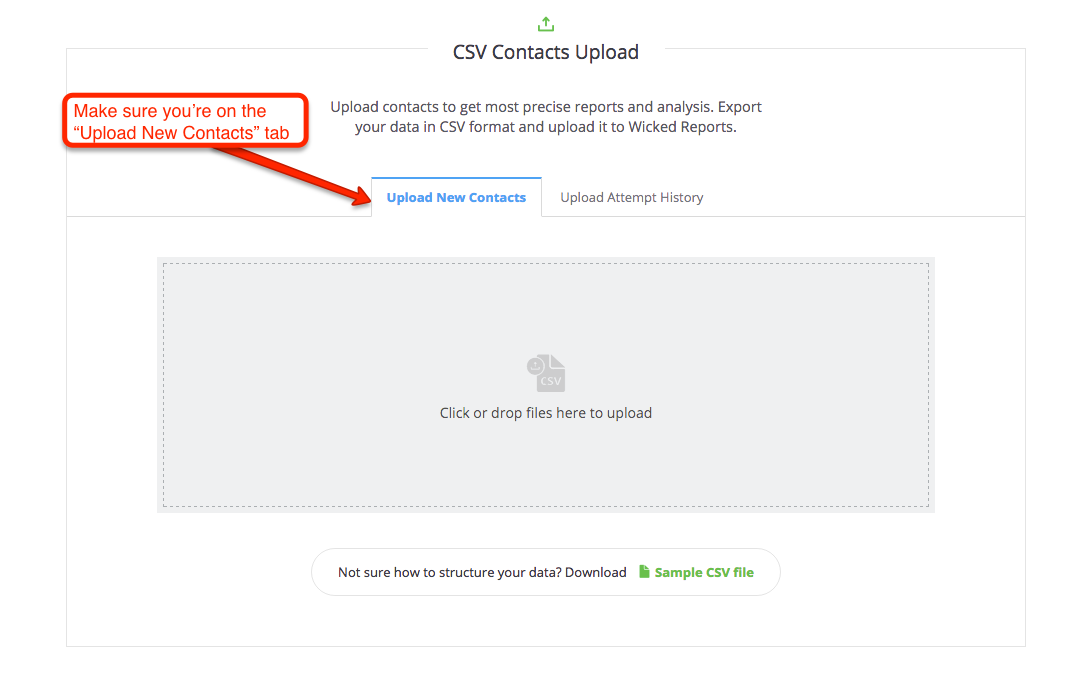 TASK TWO:
Step 1:
The first step is to copy your "Webhook URL"
To do this, log into your Wicked Reports account and go to "Setup -> Authorizations"
From here, you'll be able to copy your Webhook URL.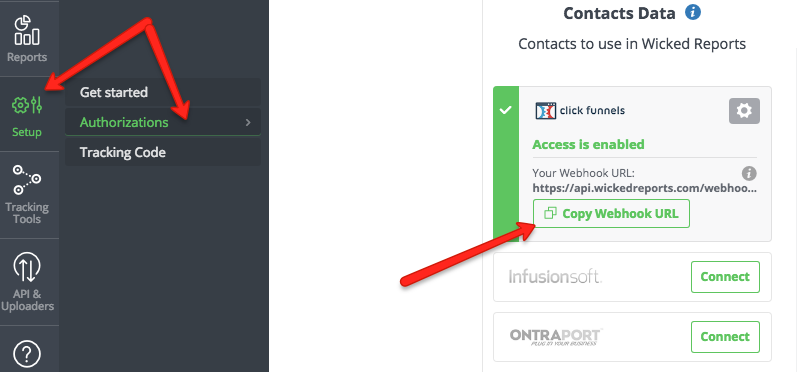 Step 2:
Once you have your "Webhook URL," you need to log into your Click Funnels/Actionetics account and click on "Funnels."

On the Funnels page, please select the first funnel you'd like to integrate with Wicked Reports. You'll need to do this process for each one of your funnels.


We're going to setup the "Test Funnel"

Once you've selected the funnel you want and are on the funnel page, please click the "Settings" button.

Scroll down to "Webhooks" and click Click "Manage Your Funnel Webhooks"

Once you've clicked on "Manage Your Funnel Webhooks", click "+ Webhooks" to add a new webhook.

You'll be taken to this page:
Once here, please fill in the following fields with the information below:
URL:
Paste in your Webook URL that you got from our support staff in the "URL" field.

The URL should look something like this: https://api.wickedreports.com/webhook/JohnsCompany/ClickFunnels

Paste that URL in the "URL" field.


Event:
Click the "event" field and select: contact_created

Version:
Leave at "1"

Adapter:
Change this to "json" from the drop down menu.

Your finalized webook should look similar to this, with the only difference being your unique Webhook URL.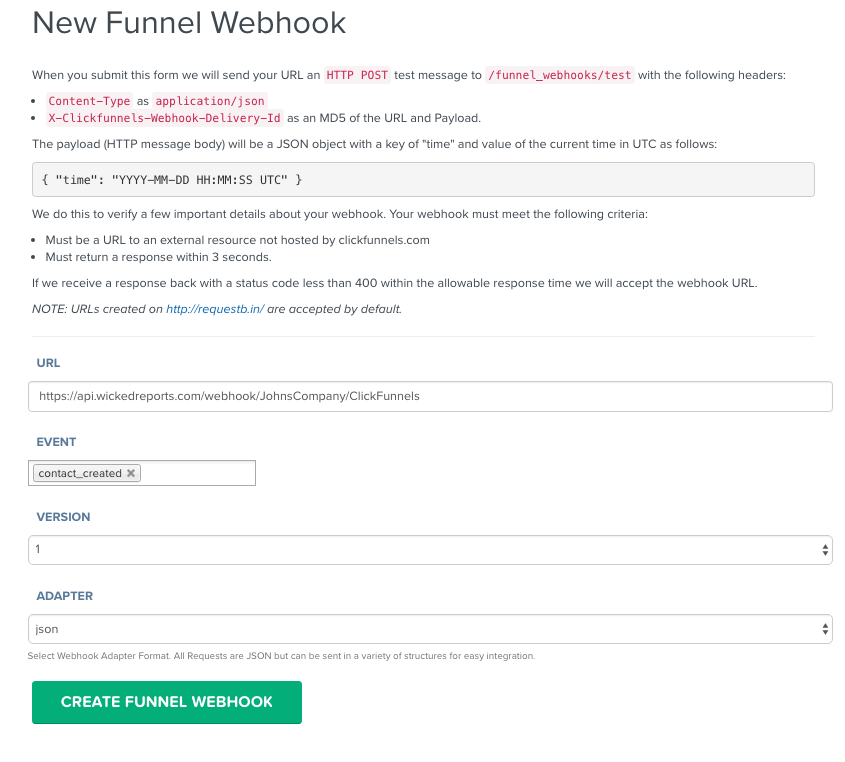 Click "Create Funnel Webhook"


You're done integrating this funnel with Wicked Reports.
**NOTE** Please setup all of your other funnels using the exact same process listed above.