Facebook Lead Ads can sync with Infusionsoft, Ontraport, ActiveCampaign, Drip, and Klaviyo.
You can turn automatic Syncing of Leads Ads on or off in the Facebook Authorization settings in your
Authorizations Dashboard
.
To change this setting, click on the settings icon by your Facebook authorization.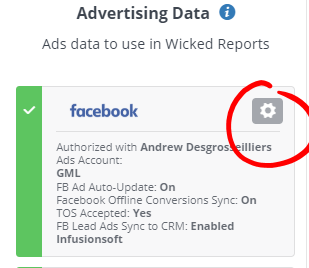 Then turn Lead Ads sync on or off using the setting checkbox.

Once this is set, each day, we will pull in the Lead from your Facebook Lead Ads and do the following:
1. If the Contact does not exist in your CRM, we will add them. If they do exist, we will NOT add them again.
2. We will tag the Contact as Synced from Wicked Repors
3. We will provide Facebook Attribution inside Wicked Reports for the leads we import
Note: If you have multiple CRMs authorized as Contact Sources, we will sync your Lead Ads with the one at the TOP of your Contacts Data in Authorizations. To change this, you can drag/drop the CRM up to the top, if you want to change it.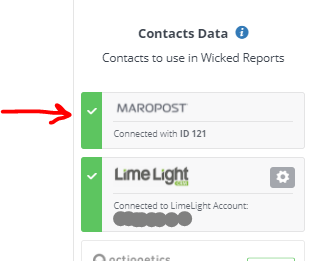 You can click and drag a CRM up if you want to change where the Lead Ads are synced