There are 4 tracking issue designations you may see in the ROI Details report. These designations, usually applied to Facebook ads, indicate that there is a problem with your Facebook Ad Tracking.
They are:
(Mismatch On Ad) - This means there is a mismatch between the Facebook Ad ID and the WickedID specified in the Additional Tracking Parameters field for the ad. the WickedID and the Facebook Ad ID should always match.
(No Tracking On Ad) - This means the ad is being tracked, but there is no Wicked ID associated with the Ad.
(Multiple WickedID) - This indicates that there are multiple WickedID values associated with the landing page URL, which causes bad tracking. This could happen if you manually specify one WickedID as part of the destination URL and a different WickedID as an Additional Tracking Parameter.
(Improper Tracking Format on Ad) - This indicates that the WickedSource is incorrect. The WickedSource for Facebook ads should always be "Facebook".
You can fix these issues either by using our Auto Updater, which needs to authorize with your Facebook authorization.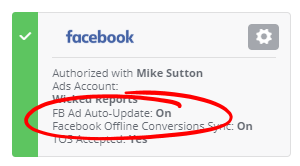 Or, you will need to manually specify the correct WickedID in your Facebook Ad Manager for the ad specified.

Note, you can also use the token to have Facebook automatically insert the correct ID in this field. This is convenient if you are cloning ads and will not result in an error using our Facebook Ad Validator.
NOTE: This funcationality may not be available for all Facebook Ad Accounts. If you want to utilize this functionality you *MUST* test your ads and confirm that Dynamic Tracking Parameters are available to you.